Okay, I am back with another video and article for you. I know I've done a lot of videos already and I really enjoyed filming them as I believe that this is the best way to help you overcome your injury and pain as well as assist you in getting back to a pain-free life.
Today's video and article is about upper back pain. Sore upper back is a common complaint most especially to those who do a lot of computer work. Here are some quick stretches that you can do anywhere to help you relieve your upper back discomfort.
One more thing before I go, I just want to inform you that on Thursday I will be filming more YouTube videos. If you like my videos, make sure to subscribe to my YouTube Channel. Also, send me a reply if you have any video ideas that you want me to talk about.
~ Rick
==============================================
In today's video, I will go through quick upper back pain stretches.
Quick Upper Back Pain Stretches
CLICK HERE to watch the YouTube video.
I got Donnalee to demonstrate.
#1 –Sit and Rotate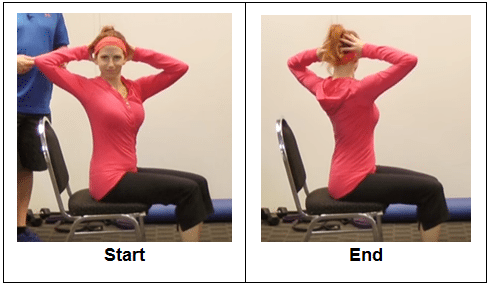 Sit and Rotate
You are sitting nice and tall. Your hands are behind your head and you will rotate to one side. You are really trying to focus on the upper back area and then rotate to the other side. We are trying to loosen up the upper back area in this mobility stretch. Start off with 3 repetitions each side. You are rotating in a smooth controlled movement. Hold for 2 seconds and move to the other side. You can progress to 5 to 10 repetitions each side to help loosen up your upper back area.
#2 – Sit and Arch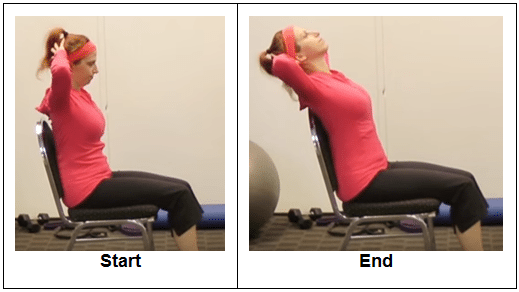 Sit and Arch
You are arching back over the chair. You are not trying to get too much movement in the low back area. We want to focus most of the movements to happen in the upper back area. You are arching back in a slow controlled manner. You are holding the end position for a second or two and then come back to the start position. You can start with 3 repetitions and then progress to 5-10 repetitions.
If you want to take charge of your back pain and eliminate the discomfort safely, then check out the Fix My Back Pain program here: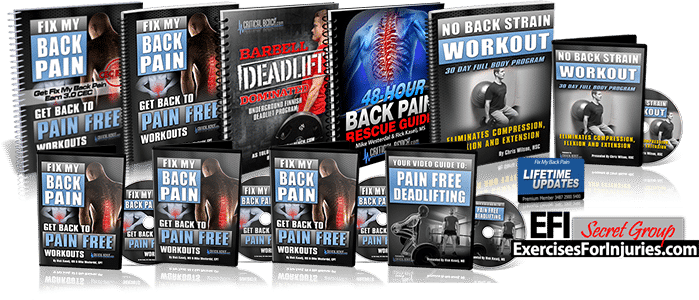 Take care!
Rick Kaselj, MS
.
Facebook comments: