I got a question on the Facebook Secret Group which is a place where people that have my programs go to ask me questions and also to ask the community questions when it relates to injury, pain, health and fitness. A question that came up was "What are some core exercises that I could do if I can't get on the floor?"
This video which is specifically called "3 Great Core Exercises if You Can't Get on the Floor". It utilizes one of my favorite pieces of equipment which is the wall.
3 GREAT Core Exercises That You Can Do If You Can't Get On the Floor
CLICK HERE to watch the YouTube video.
#1 – Wall Plank
I can go with my forearms and going up against the wall and going on in whatever angle that you can handle or whatever your fitness level can handle.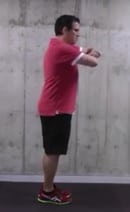 Forearms Position
In the last video, I have gone into a plank and I almost bailed because the mat here is not stuck to the floor.
I can do a wall plank and hold that wall plank.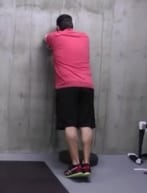 Wall Plank in Forearms Position
If I want an increase in challenge, I can increase the incline that I do.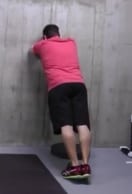 Wall Plank with Increase Incline Position
A couple of things that I want to remember when getting into that plank position, I don't want that forearms to be too high because that will put a lot of stress in the shoulder and over activates the trapezius muscle.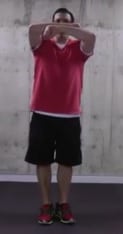 Wrong Forearms Position
By bringing it a little bit lower, that will end up easing the stress in the shoulder and in the neck.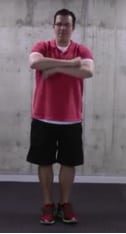 Correct Forearms Position
So the first one is going into a wall plank position and going in whatever incline that you can and hold it for a period of whatever you can handle. You can get 5, 10, 15, or 20 seconds hold and going into 5 repetitions to 10 repetitions.
#2 – Wall Plank from Forearms to Straight Arms
You do it with the forearms position and you come up with straight arms position and then back into the forearms position. Keep alternating back and forth.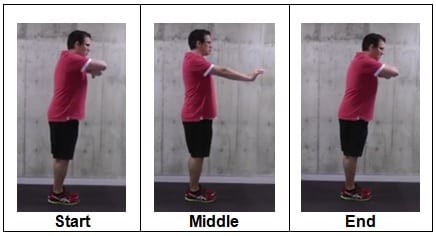 Wall Plank from Forearms to Straight Arms (side view)
In that forearm position, get your forearms in a good spot, coming up and then back down. It's like I am walking and marching with my arms.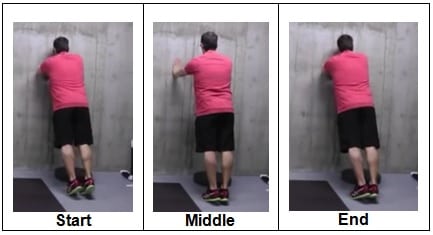 Wall Plank from Forearms to Straight Arms (back view)
The same reps and sets as we talked about with the one before. I would do 10 reps with 5 reps on each side. When it comes to sets, you will start off with 1 set and see how you feel.
#3 – Wall Plank with knees Up and Out
I am going to go in a wall plank position, bringing the knee up, bringing the knee out to the side, back in and back down.

Wall Plank with knees Up and Out (side view)
In that forearm position, I am bringing the knee up, out to the side, back in and down. I can do alternating sides or or I can do on the same sides.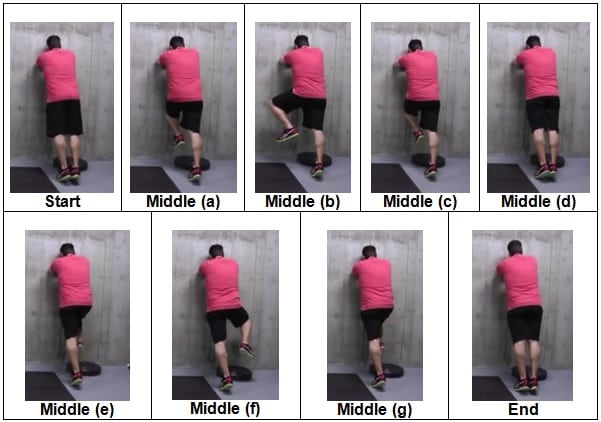 Wall Plank with knees Up and Out
This one works well because I am working on the stability of the hip by bringing the knee up, this side end up having stabilize and have more of load of my body and I can work on loosening up the opposite hip and also have the body reacts in which my pelvis and my core area react into that rotation movement as well.
We will do same reps as the one before, going for 5 to 10 repetitions and starting off with 1 set. If that is easy or not challenging at all, you can go through all three exercises multiple times. If it is still easy, you can increase the incline that you are up against the wall.
Those are 3 Great Core Exercises that you can give a go if you are not able to get down on the floor and go through traditional core exercises.
Make sure to swing by ExercisesforInjuries.com, enter in your injury and pain, there's a good chance that I have an article, a video, or an interview that will help you overcome your injury or pain.
Secondly, if you are watching this on YouTube, head up above and hit subscribe. What that would do is every couple of days you will get a video like this where I talk about overcoming injury or pain.
Lastly, head down below and leave me a question or a comment.
If you are looking or an amazing resource on everything "Core Training", check this out…

Take care!
Rick Kaselj, MS
.
Facebook comments: