Yesterday, I was at a local neighborhood filming some YouTube videos. The videos were not for me but for my brother who is setting up a basketball YouTube channel. I will let you know as soon as his channel is ready.
Looking at my YouTube channel, I already have over 750 videos when it relates to pain and injury. I got one of them below which discusses neck and shoulder pain.
Enjoy the 3-minute routine for your neck and shoulder pain relief.
~ Rick
=============================================================
In today's video, I will go through a 3-minute shoulder neck pain relief exercises routine.
3-Minute Shoulder Neck Pain Relief Exercises Routine
CLICK HERE to watch the YouTube video.
I got Donnalee to demonstrate.
#1 – Legs on a Chair
Legs on a Chair
You will lie down and place your legs on the chair. You are just in a relaxed position in order to give your neck and shoulders a chance to relax.  Hold this position for about 30 seconds.
#2 – Chin Tucks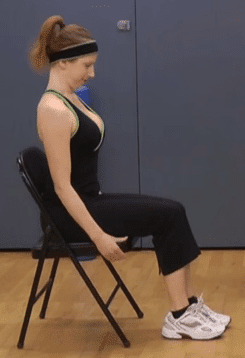 Chin Tucks
You will sit nice and upright. You will bring the chin back and feel the pressure at the back of your head. You will hold for a couple of seconds and then relax. You will do 5 repetitions holding the end position for a second or two.
#3 – Shoulder Rolls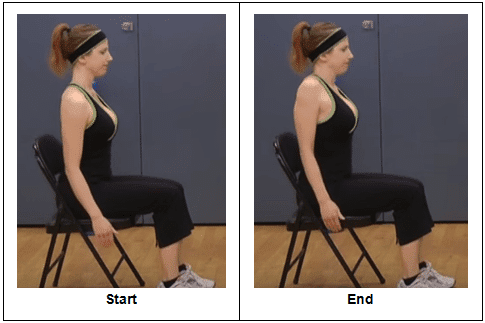 Shoulder Rolls
You will sit nice and tall, hands are on the side. You will bring the shoulders up, roll them back and then back to the start. Rolling the back is the most important part. We are contracting the muscle to give it a chance to relax more. You will do one set of 5 repetitions.
#4 – Elbow Grab and Side Bend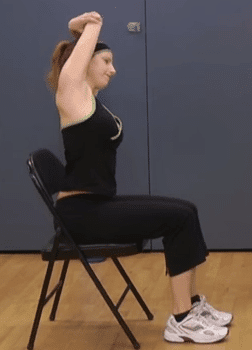 Elbow Grab and Side Bend
You are reaching over and grabbing your elbows then you will bend towards one side. You will feel a strong stretch on the side and probably feel some stiffness in the mid back area which you are trying to loosen up. You will hold the end position for about 10 seconds on each side. You will do 2 repetitions on each side.
With this routine, you can do the four exercises anytime throughout the day. You can do it a number of times all through the day. This routine will certainly help you with your shoulder neck pain.
If you want to permanently get rid of your neck soreness, then check out the Neck Pain Solved program here: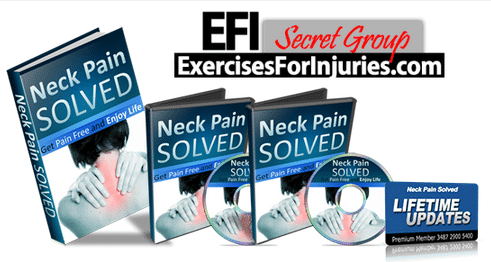 Take care!
Rick Kaselj, MS
.
Facebook comments: