Hey, happy Tuesday!
Just like yesterday, I have another workout for you. These are four warm-up exercises that you can do for your legs and hips with the use of resistance band which was done by Coach Brian.
Check out the article and video below!
If you missed Monday's workout, you can check it out here.
Take care!
~ Rick Kaselj, MS
================================================
Band Exercise Warm-Up for Legs & Hips
CLICK HERE to watch the YouTube video.
#1 – Lateral Step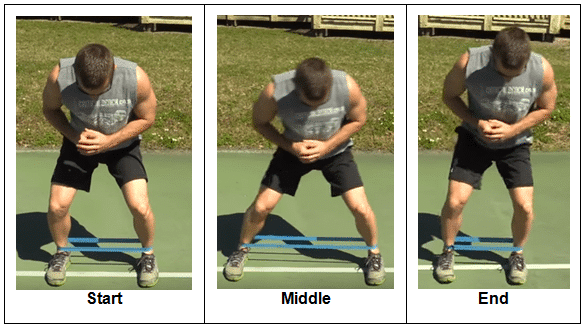 Lateral Step
We are using a simple resistance band. You will wrap it around the ankles where we are travelling lateral way. The first stance is you are on a quarter squat position. Your feet are parallel, tilt points straight ahead, back flat, shoulders pull back and you are travelling sideways in a straight line. You will walk in a straight line. If you have a hard time walking in a straight line, put out a jump rope or a line of some sort that you can trace with your feet to make sure that you are going in a straight line. Keep your feet parallel as you step out. Try not to drive that back foot. Do 10 steps out, relax a couple of seconds, then 10 steps back in.
#2 – Zigzag Step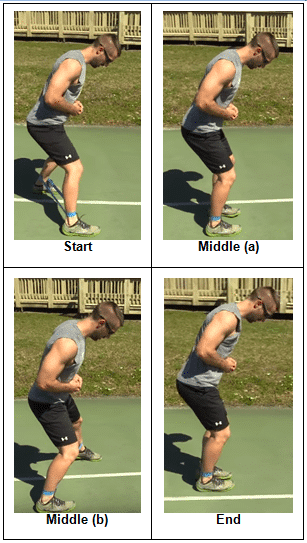 Zigzag Step
This exercise is also referred to as 45 degree step. With the feet together, you are stepping out of 45 degree angle making sure the feet stay parallel the entire time. Your feet stand 45 degrees and still in a quarter squat position, zigzagging your way forward trace in the straight line. One you hit ten steps, you will go backward. Now as you travel backward, give more emphasis on keeping your feet parallel as people have a tendency to twist in the legs out or in.
#3 – Tip-toes Stance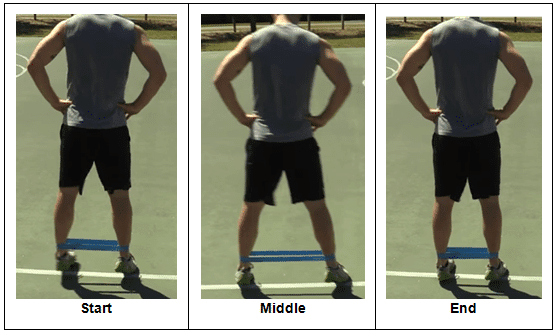 Tip-toes Stance
This is sideways again and you are upright this time. On tip-toes, your legs are straight, hands on the hips with the shoulder blades back. You are taking smaller steps this time but make sure you follow the straight line. You will do ten steps out and ten steps back in.
#4 – Penguin Steps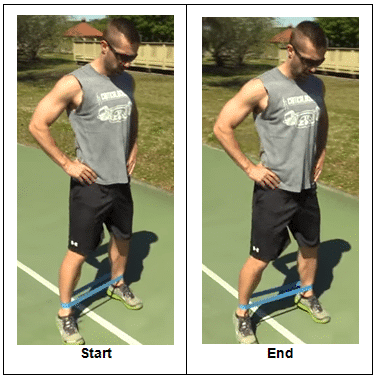 Penguin Steps
We are facing forward, feet are wide and parallel. Notice the tension on the band just to make sure we get the most out of this exercise. Do ten steps per side, small steps keeping tension on the band. Once you hit the number of repetitions, go backwards and do the same movement. Always make sure that your feet stay parallel.
If you are looking for a complete strength and conditioning program for guys hitting 40 and above, then check out the 40 STRONG program here: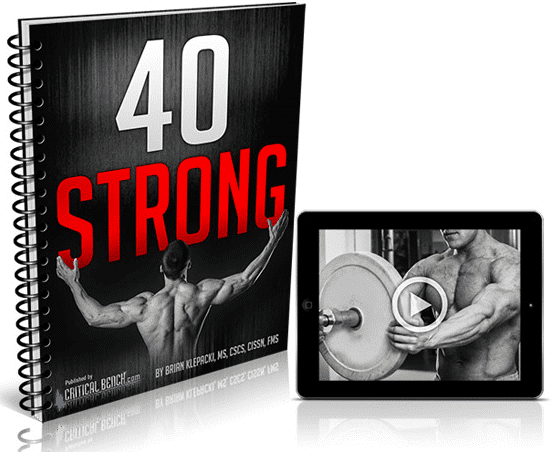 Take care!
Brian Klepacki
.
Facebook comments: