In this video, I wanted to go through the Best Whole Body Filler Exercise to Do.
As you know, Filler Exercises are exercises that you can do in between your exercises or in between your sets in order to help you overcome injury, prevent injury, improve your movement, and improve your mobility.
I want to go through this quick exercise that you can do between sets. It is called the Prisoner Split Lunge.
BEST Whole Body Filler Exercise to Do
CLICK HERE to watch the YouTube video.
I will get Donnalee to demonstrate.
She's going into that typical lunge position. Her front and back legs are at 90 degrees. She brings her arms out to the side and really contracting that mid-back area. And then she will go into that lunge movement, bringing the knee to the floor and then come back up..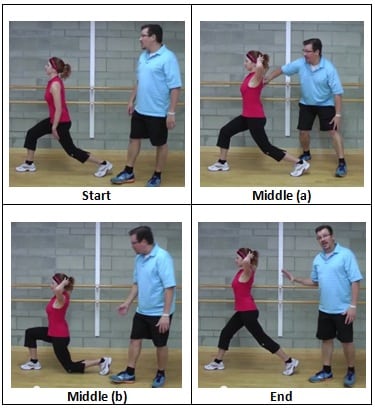 Prisoner Split Lunge (Side View)
This exercise is good because we are working on the ankle mobility, knee strength, hip range of motion and hip mobility. In the upper body, we are working on those stabilizers in the shoulder. We are working on good movement to relax the upper trapezius. We are also stretching the front of the chest area.
Again, one step forward and one step back. Weights are even on the front foot and on the back toe. Make sure that the technique is good.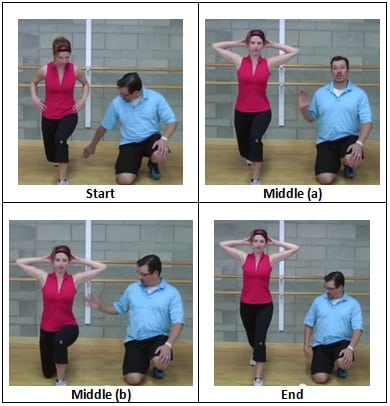 Prisoner Split Lunge (Front View)
Going through this exercise for 5 to 10 repetitions will help in loosening, strengthening and activating the whole body.
Give that exercise a go between your exercises or sets in order to loosen up your ankles, to activate and strengthen your knees, to loosen up and strengthen your hips, and also to stretch out and activate your shoulder area.
Now, if you are looking for a resource that you can lean towards when it comes to Filler Exercises, then check the 50 Filler Exercises program here:
Take care!
Rick Kaselj, MS
.
Facebook comments: