In this video, I wanted to go through a great foam roller exercise that you can do if you sit a lot.
Great Foam Rolling Exercise If You Sit A Lot
CLICK HERE to watch the Youtube video.
I get Sonya to demonstrate the Foam Roller Mini Bridge. You do not need to have a full foam roller. You can use a one foot foam roller for this exercise.
Sonya lies on her back and she puts the foam roller at her ankles. She tightens up her abdominal area, pushes down with her legs, tightens up her glutes, and lifts her seat off to the mat.

Foam Roller Mini Bridge
Why is this a good exercise?
This exercise makes you activate the glutes if you are sitting a lot. When you are activating the glutes, you are stretching out the front of the hips, which is good. You are also working out your core, which you oftentimes don't get too when you sit a lot at work. We are working on having a really good alignment in the body.
If you got a foam roller and you sit a lot, give this exercise a go. It doesn't matter if you have one foot or a 3 foot foam roller.
Make sure to swing by ExercisesForInjuries.com. Enter in your injury or pain. There's a good chance that I have an article, an interview, or a video that will help you overcome your injury or pain.
Secondly, if you're watching this on YouTube, head up above and hit subscribe. What that will do is every couple of days you'll get a video like this where I talk about tips and tricks on overcoming and preventing injury or pain.
Lastly, head down below. Take a look at the different comments and the description below, hit like and leave me a question or a comment.
If you are looking for a resource when it comes to foam rolling, take a look at my Foam Roller Essentials Program.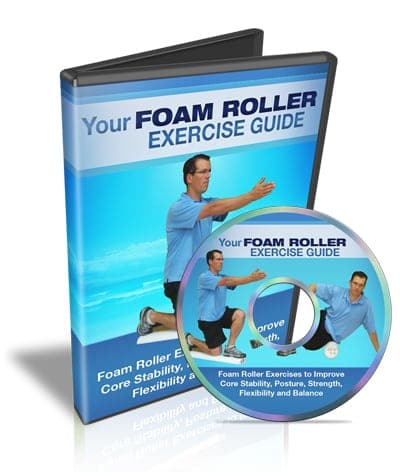 Take care!
Rick Kaselj, MS
.
Facebook comments: