Filed Under (General) by
Rick Kaselj
Happy Sunday!
I survived yesterday's sledding adventure with the kids. It was a lot of fun!
While I was chatting with the other parents, one of them asked me to give him a quick tip to relieve shoulder pain. This got me thinking of the exercise video below.
Watch the video below to learn how to alleviate your shoulder pain.
~ Rick
===================================================
In today's video, I wanted to go through a quick shoulder pain relief.
Quick Tip for Shoulder Pain Relief
CLICK HERE to watch the YouTube video.
I'm going get Alix to demonstrate.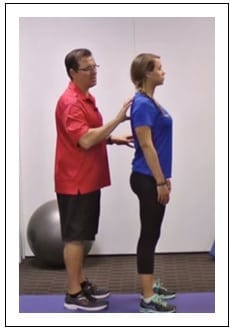 You are standing nice and upright. You are going to open up the shoulder a bit to decrease the pressure on the shoulder joint and have the work move over on to the shoulder blade muscle.
Make sure to swing by ExercisesforInjuries.com. Enter in your injury or pain. There is a good chance that I have an article, a video, or an interview that will help you overcome your injury or pain.
If you want to end your shoulder discomfort permanently, then check out the Fix My Shoulder Pain program here:

Take care!
Rick Kaselj, MS
.
Facebook comments: