In this video, I wanted to go through a common mistake that I see people make when it relates to the Wall Plank that is leading to shoulder pain and shoulder injury.
Wall Plank Mistake That Leads to Shoulder Pain
CLICK HERE to watch the YouTube video.
I get Alex to demonstrate it.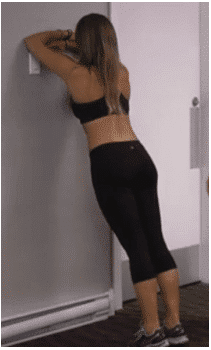 Wall Plank Position Mistake
She goes into a Wall Plank position and goes through the common mistake that people make. Big thing is the position of the arms, the arms are too high up that puts a lot of stress on the shoulder and collar bone. With that unnecessary stress, it leads to irritation, injury and pain.
We want to do the Wall Plank position properly.
It is good for the shoulders to have those forearms below shoulder height. We need to have the elbows and forearms below shoulder height. By doing this, the shoulder blade muscles pick up the work in doing things and less stress on the shoulder joint.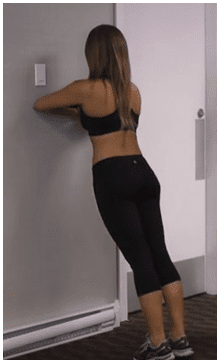 Proper Wall Plank Position
There you go! Next time you do the Wall Plank, make sure you are not making that mistake and your shoulders will be happy for it.
Make sure to swing by ExercisesForInjuries.com. Enter in your injury or pain. There's a good chance that there's an article, an interview, or a video that will help you overcome your injury or pain.
Secondly, if you're watching this on YouTube, head up above and hit subscribe. What that will do is every couple of days you'll get a video like this where I talk about tips and tricks on overcoming injury or pain.
Thirdly, head down below, hit like and leave me a question or a comment.
If you want to permanently end your shoulder pain, then check out the Fix My Shoulder Pain program, here:

Take care!
Rick Kaselj, MS
.
Facebook comments: