In my house, the kids were off. It is the start of the crazy Christmas holidays.
Before I head outside to go sledding with the kids, I have a quick video for you on what do do about hip flexor pain when squatting.
I'm off to go on sledding!
~ Rick
=============================================
In this video, I want to show you what to do about hip flexor pain when squatting. This is foam rolling out your hip flexors.
What to Do About Hip Flexor Pain When Squatting
CLICK HERE to watch the YouTube video.
I will get Andrea to demonstrate.

Get on the floor. Get a full foam roller and have that foam roller start at about your hip joint and then you are going to roll through from your hip, just above the knee, then you are going to roll back down. You are going to go on a nice controlled movement and you are looking at doing 5 to 10 repetitions. I would start off with five. See how it feels and go through the squatting movement then see how your hip flexors feel. If they feel better then continue and do 10 repetitions.
Make sure to swing by ExercisesforInjuries.com. Enter in your injury or pain. There is a good chance that I have an article, a video, or an interview that will help you overcome your injury or pain.
If you want to instantly release your hip flexors for more strength, better health and all day energy, then check out the Unlock Your Hip Flexors program here: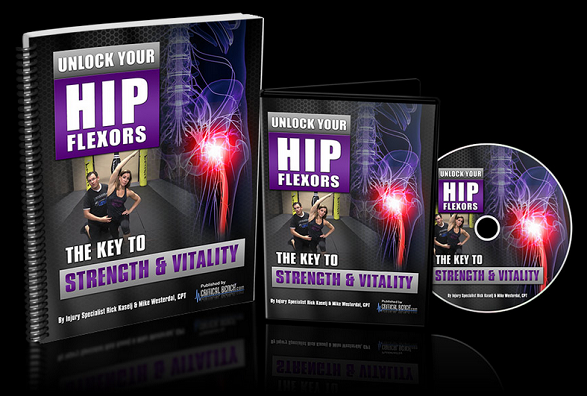 Take care!
Rick Kaselj, MS
.
Facebook comments: