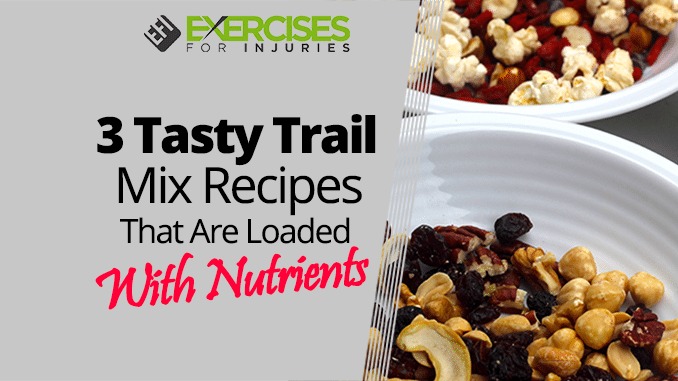 National Trail Mix Day falls on August 31st. It is a celebration of the energy rich snack often sold as the solution for hikers to sustain energy during their long treks. In honor of National Trail Mix Day, I have come up with three different flavor ideas to keep you going during any type of exercise. These are specifically devised to maximize energy whilst minimizing the risk inflammation.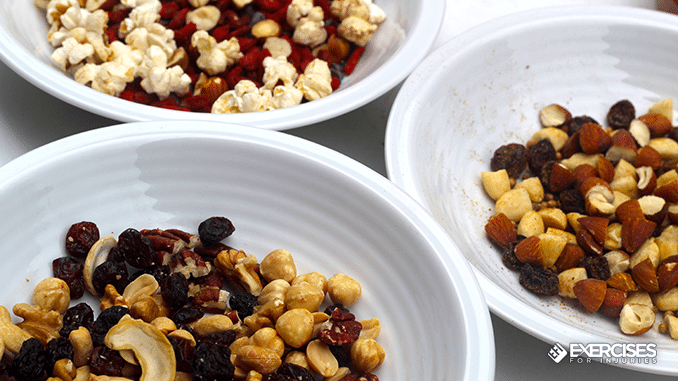 There is no added sugar in these recipes, but they are packed full of energy in the form of carbohydrates from the grains and dried fruits. The fruits add sweetness without processed sugar so they are much better for inflammation sufferers but still taste delicious.
Nuts play a key role. They are great for adding crunch to your trail mix, as well as to keep it more interesting for your taste buds, and they contain unsaturated fats, which release energy slowly, allowing you to keep going for longer.
There are three different flavor themes for the mixes; sweet, nutty and spicy, so you can choose which you prefer. They contain a balance of carbohydrates, fats and protein and I've tried to balance the flavors too. I've not included quantities for everything as it is probably better to just add a handful of each ingredient to the mix, or change the amounts to suit your taste.
You should be able to find all the ingredients in your local health food store, but failing that, they are all available cheaply online. If you are planning on making large batches, it is more cost effective to buy large bags of nuts and dried fruits. They will keep for months if stored in an airtight container and you can experiment with different mixes until they are used up.
I would recommend adding a little salt to each mix. Too much salt is not good for your heart, but a little pinch in each mix will enhance the flavors so that you will enjoy your trail mix right to the last mile!
The trail mix can be stored in an air tight container until needed. This will prevent moisture from getting in and spoiling the mix. I like to decant as much of the trail mix as I want for each journey into a sealable plastic bag. Then I can keep it with me and take a handful whenever I need an energy boost.
I'm really pleased with these recipes but I recommend playing around with the combinations and trying out your own mixes. That is part of the fun of making trail mix and means you can find the perfect mix for you.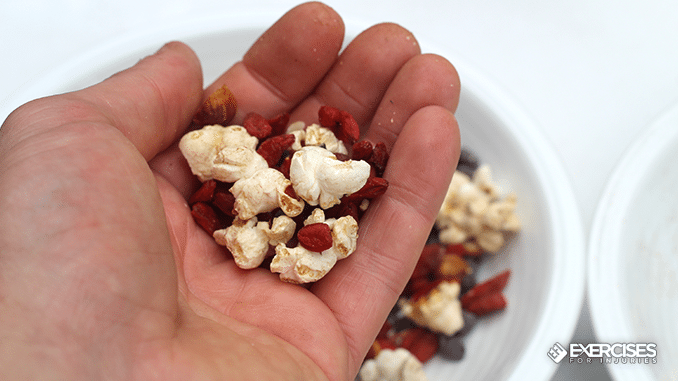 Sweet mix
This mix is perfect for those with a sweet tooth, but who don't want processed sugar in their diet. The dried red currants and cranberries contrast with the bitter dark chocolate and toasty popcorn to produce a sweet treat without the guilt.
Everyone likes chocolate and it has proven health benefits too. Dark chocolate is full of anti-oxidants which are great for reducing inflammation in sufferers. Flavonoids and Polyphenols present in cocoa help to eliminate free radicals, preventing them from causing damage to the body.
Drying fruits preserves a lot of the nutrients present in fresh fruit. Vitamin C is reduced compared to fresh fruit, but because it is more compact, dried fruit contains far more fiber for its volume than fresh fruit and is still a great source of anti-oxidants.
Ingredients
1 handful each of:
popcorn
dark chocolate chips
dried red currants
dried cranberries
hazelnuts
a pinch of salt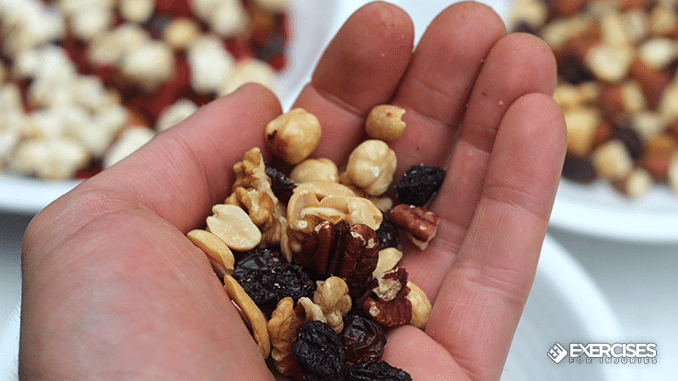 Nutty mix
This nutty mix has a little dried fruit to provide some sweetness. It's great for a slow release of energy. If you are planning on embarking on a long walk or a sustained period of exercise then this energy-dense mix is for you.
Nuts provide vitamin E, fiber and omega-3 fatty acids, but, like anything, you don't want to overdo it and have too much of a good thing. A few handfuls of nutty mix on the trail is ideal but be careful not include too much in your diet.
1 handful each of:
hazelnuts
cashew nuts
peanuts
almonds
walnuts
raisins
dried cranberries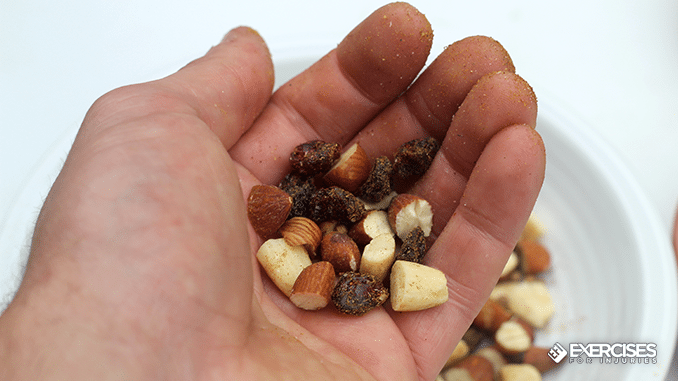 Spicy mix
I had a lot of fun developing this spicy mix. Trying to balance the earthy spices with the nuts and seeds. This mix has a kick from dried chilli, which contains Capsaicin, great for reducing the risk of cancer and reducing inflammation in the body. If you like it really spicy you can add more chilli, but I think just a teaspoon is enough for most people.
I recommend leaving the spices whole, which adds a crunch and a burst of flavor when you bite into them. The dried lentils are an excellent source of energy so this mix is for those who need the energy but also love a bit of spice in their life!
1 handful each of:
almonds
hazelnuts
dried lentils
1 tbsp coriander seeds
1 tbsp cumin seeds
1 tsp dried chili flakes
1 tsp garam masala
If you want to know what foods will help you shape up and shed inches while providing natural cure to illnesses, then check out the Best Foods That Rapidly Slim & Heal In 7 Days program.
Facebook comments: