It's nearly time for Thanksgiving and you're getting ready to prepare a delicious holiday feast. You've got the classic Thanksgiving menu in mind; the traditional roasted turkey filled with stuffing, served with thick gravy and accompanied by a selection of side dishes.
Only now, you no longer eat gluten. In your mind, you say an emotional goodbye to the bread-based stuffing of your childhood, the gravy thickened with flour and, well, just bread in general. Then, you ask yourself (whilst trying not to hyperventilate): "What's Thanksgiving without the stuffing-filled turkey and the thick gravy!? What am I going to do now?!"
But don't worry. It's actually surprisingly easy to make sure your holiday feast is gluten-free. In fact, you (and your other guests) probably won't even notice!
The good news is that the superstar of any Thanksgiving menu, the fresh turkey, is always gluten-free, as long as it hasn't had anything added to it. Even spice mixes, herbs-coatings and sauces can contain hidden gluten, but if you add the extras yourself, it's easy to keep an eye on the ingredients and ensure that your holiday menu's 'main event' is definitely gluten-free.

With regards to the stuffing, you can either just omit the stuffing altogether or make a gluten-free stuffing that you and all your guests can enjoy. Similarly, the gravy can be thickened with a gluten-free alternative to conventional flour or can be thickened in another way, such as through the reduction method.
But let's focus on the most important thing – the turkey. Get ready for five super-simple and delicious gluten-free turkey dishes that will be the star of any holiday feast.
Simple Roast Turkey
As previously mentioned, fresh turkey is inherently gluten-free. If you just roast the turkey as it is, placing lemons inside the cavity instead of stuffing, that's as simple as it gets. Just brush the turkey with oil, sprinkle with herbs and roast it in the oven. Taste of Home's recipe [1] is one of the most simple and delicious recipes out there and proves that you don't have to make things complicated to enjoy a gluten-free Thanksgiving.
You will need:
1 turkey, weighing around 10-12 lbs
6-8 garlic cloves
2 large lemons
2 tablespoons of olive oil
2 teaspoons of dried rosemary
1 teaspoon of sage
Preheat the oven to 325 degrees Fahrenheit. You'll need to cut the turkey skin in a few places, in order to insert the garlic cloves underneath. Then, cut the lemons in half. Squeeze the juice from one lemon inside the bird and the juice from the other all over the bird. Put all the lemon halves inside the cavity.
The recipe then advises that the wings should be tucked under and the drumsticks tied together. The bird should then be placed in a roasting pan, brushed with olive oil, sprinkled with herbs and roasted for approximately 1 hour.
After 1 hour has passed, the turkey should be covered with foil and roasted for a further 2 hours or more, basting occasionally, until a thermometer in the thickest part of the thigh reads 170-175 degrees.
When the turkey is removed from the oven, it should be left to stand for 20 minutes before carving.
You can then use the dripping to make gravy (just don't add any flour).
Herby Turkey Breast
If you're not feeding a huge crowd this Thanksgiving, why not cook a turkey breast instead? It's a lot quicker to cook than a whole bird and a delicious herb-coating will give so much flavour to the meat. Plus, by making it yourself, you'll have complete control over the ingredients to ensure the coating is completely gluten-free. The following recipe from Flavor The Moments [2] contains less than 10 ingredients but is still mega-tasty.
You will need:
A turkey breast, weighing approx. 3lbs (bone in, skin on)
2 cloves of garlic, crushed
1 teaspoon of dried thyme
1 teaspoon of dried rosemary
1 teaspoon of dried sage leaves
1 teaspoon of salt
½ teaspoon of ground black pepper
2 tablespoons of olive oil
Preheat the oven to 350 degrees Fahrenheit. Combine all the herbs, garlic, oil and other seasonings in a bowl to create a 'rub'. Cover the turkey breast with this mixture, including underneath the skin. Place in a roasting pan and cook for 45 minutes – 1 hour, or until a thermometer inserted into the thickest part reads 165 degrees. Cover with foil and allow to rest for 10 minutes before carving.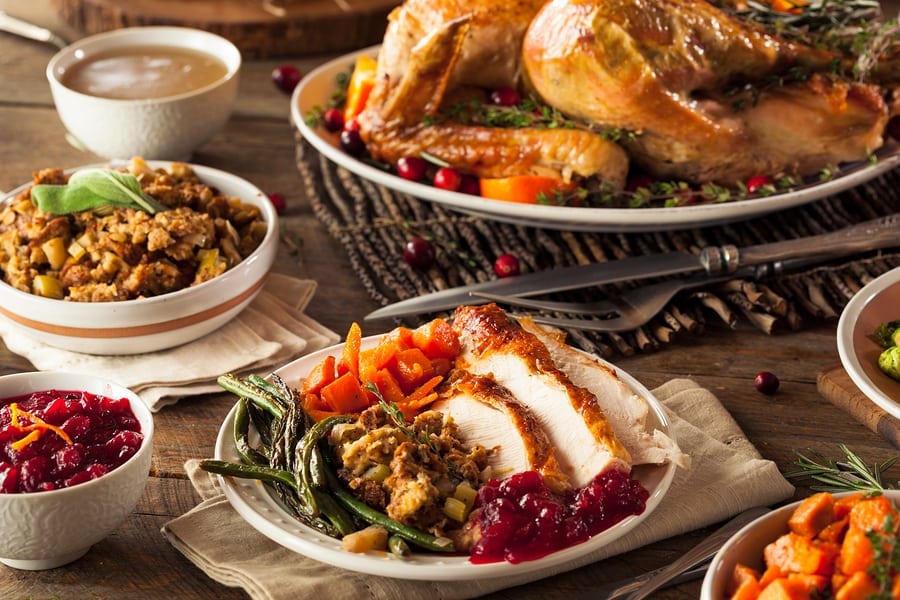 Turkey Roulade with Basil Pea Pesto
This quick and delicious turkey dish by The Petite Cook [3] will add a fresh and vibrant element to any Thanksgiving dinner. Basil pea pesto is not something you typically associate with fall and Thanksgiving, but there's nothing wrong with bringing a few summer vibes and a little Italian flare to your table.
You will need:
1 large skin-on turkey thigh, weighing approx. 2.2lbs, deboned
1 cups of fresh or frozen peas, steamed
1 handful of fresh basil leaves
Zest of 1 lemon
¼ cup of olive oil
1 garlic clove
Sea salt and black pepper
1lb fresh green beans, steamed (to serve)
Preheat the oven to 375 degrees Fahrenheit. Flatten the turkey thigh with a meat tenderizer to an even thickness of about 1 inch.
Place the peas, basil, lemon zest, olive oil and seasoning into a powerful blender and blend until smooth. Spread the pesto on top of the turkey leg, leaving a 1 inch border at the edges.
Roll the turkey gently up and over the pesto filling and then secure with kitchen string.
Seal the roulade by searing all sides on a very hot cast iron pan. Then transfer the turkey to the oven and bake for approximately 45-60 minutes until a thermometer inserted into the thickest part reads 165 degrees.
Remove from the oven, cover with foil and leave to rest for 5 minutes before cutting the roulade into thick slices. Spoon over the pan juices and serve with steamed green beans.
Spatchcock (Butterflied) Turkey
If you want to cook a whole turkey, but in less time… this one is for you. Fans of this cooking method say that it leads to the crispiest skin and the juiciest meat, but don't just take their word for it! Plus, because it's just fresh turkey, it's completely gluten-free. This recipe from All Recipes [4] has really simple flavours and would go perfectly with your favourite traditional Thanksgiving side dishes.
You will need:
1 turkey weighing 10-12 lbs
½ cup of olive oil
1 tablespoon of salt
1 tablespoon of finely chopped fresh sage
1 tablespoon of fresh thyme leaves
1 tablespoon of finely chopped fresh rosemary
1 teaspoon of crushed black pepper
First, you'll need to preheat the oven to 350 degrees Fahrenheit. Then start to prepare the turkey. You'll need to turn the turkey over, breast side down and use a pair of kitchen shears to cut along one side of the back bone. Then repeat on the other side and remove the backbone.
Continue to flatten the turkey by pressing down on both sides of the breast bone until you hear a crack. Tuck the wing tips under the breasts and place the turkey on a rack. Brush with oil and then season with salt, pepper and herbs.
Roast the bird for 1 hour and 30 minutes, then baste and return to the oven for an additional 15 minutes at 400 degrees Fahrenheit. Remove from the oven when a thermometer, inserted in the thickest part, reads 165 degrees.
Remove from the oven and cover loosely with foil. Leave to rest before carving.
Cajun Spiced Turkey
If simple flavours aren't your thing, you can always spice up your Thanksgiving (see what I did there) with something a little different, thanks to this recipe from Epicurious [5]. Coating your turkey with Cajun spices is a great way to add loads of flavour, without adding any gluten. Just make sure that you make your own spice mix or, if you do choose to buy one, check the ingredients thoroughly to make sure there's no hidden gluten.
You will need:
1 turkey, weighing 12-14 lbs
Salt and freshly ground black pepper
1 ½ cups of Cajun spice mix
1 celery stalk, chopped
1 green bell pepper, chopped
1 medium onion, chopped
¼ cup of olive oil
Massage the spice mix into the skin of the turkey. Then transfer the turkey, breast-side down, into a prepared pan (with a rack) and refrigerate overnight, uncovered. The next day, remove the turkey from the fridge and allow to stand at room temperature for 1 hour.
Preheat the oven to 375 degrees Fahrenheit. Mix the celery, pepper and onion in a mixing bowl and then insert this mixture into the cavity of the turkey. If there is any remaining, add these to the bottom of the roasting pan.
Brush the turkey with oil and roast it for up to an hour, basting occasionally. Then flip the turkey and continue to roast until a thermometer inserted into the thickest part of the thigh reads 165 degrees. This will usually be after an additional 60-90 minutes.
Remove from the oven and allow to rest for 20 minutes before carving.
Hope you have a wonderful Thanksgiving and that you and your loved ones enjoy your gluten-free Thanksgiving holiday feast! 
If you want to know what foods will help you shape up and shed inches while providing natural cure to illnesses, then check out the Best Foods That Rapidly Slim & Heal In 7 Days program.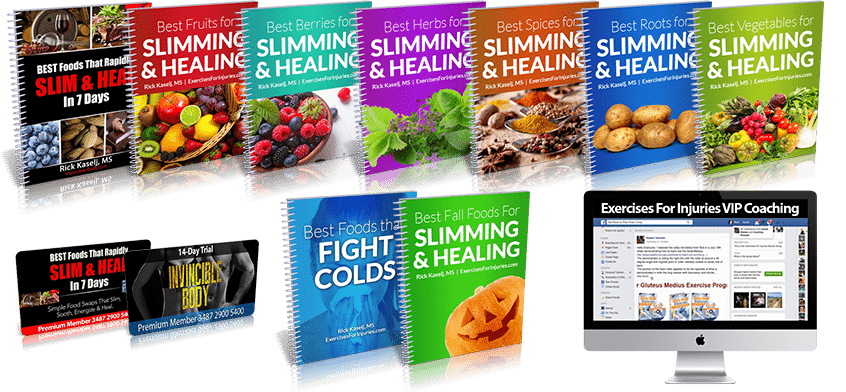 References:
Garlic Rosemary Turkey Recipe from Taste of Home at http://www.tasteofhome.com/recipes/garlic-rosemary-turkey
Simple Herb and Garlic Roasted Turkey Breast from Flavor The Moments at
http://flavorthemoments.com/simple-herb-garlic-roasted-turkey-breast/
Turkey Roulade with Basil Pea Pesto from The Petite Cook at http://www.thepetitecook.com/turkey-roulade-with-basil-pea-pesto/
Roast Spatchcock Turkey Recipe from All Recipes at
http://dish.allrecipes.com/how-to-spatchcock-and-roast-a-turkey/
Cajun Spiced Turkey from Epicurious at http://www.epicurious.com/recipes/food/views/cajun-spiced-turkey-368270
Facebook comments: