Alongside exercise, diet plays a fundamental role in helping maintain a balanced and healthy lifestyle, and ensuring you eat the right balance of nutrients can go a long way to helping you achieve your personal weight loss goals and provide your body the raw materials it needs to function and thrive.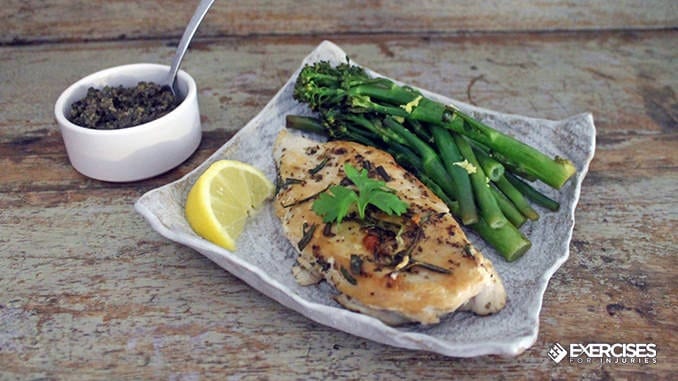 However, in a society dominated by convenience eating and a fast food culture, it is becoming increasingly easy to rely on heavily processed snacks and carb heavy meals to get us through the day.  Ensuring meals are healthful, nutritious and tasty need not be challenging or time consuming. This deliciously simple chicken dish is accompanied by a flavor packed tangy olive tapenade and zesty green veg, providing you with a sumptuous portion of healthy fats, a rich source of protein and a healthy dose of low carb greens. Ideal as part of a healthy balanced diet, this dinner is quick to prepare and loaded with flavor.
This dish will not only tantalize the taste buds but also boasts some impressive nutritional stats. As always, this delicious dinner is anti-inflammatory and free of dairy, gluten and refined sugars, A perfectly balanced meal for any night of the week!
This recipe utilizes chicken breast meat to provide a lean source of protein. Protein is crucial in our diets for growth and repair and just one chicken breast can provide half of our daily protein needs. It is always worth opting for free range chicken where possible as this offers far superior nutrition to that of conventionally raised poultry.
The chicken is cooked simply with the addition of anti-inflammatory herbs, rosemary and oregano.  Rosemary is a potent antioxidant, renowned for its inflammation fighting and digestive soothing properties. Oregano boasts an equally impressive array of health giving properties. Packed with essential vitamins and minerals, this super herb also exhibits anti-fungal and anti- microbial effects.
Olives and olive oil provide this meal with a generous dose of healthy fats. That's right, fat can be healthy. Not only does the humble olive deliver inflammation reducing fats, but it is also purported to exhibit cancer fighting properties and support a heathy heart. When selecting olives, the higher the quality the better. Try to find olives preserved in olive oil or salt where possible. Stone-in olives are also preferable, but good quality pitted work well in this dish and are time saving for week nights!
For an added boost of flavor and a little zing, lemon juice and zest is used throughout the dish. Aside from offering the dish a refreshing twist, lemons assist and aid digestion as well as contributing a generous dose of vitamin C.
The final component of the dish is a generous heaping of green non-starchy vegetables. Low carb veggies are at the foundation of every balanced diet alongside good quality protein and healthy fats. Here we have used broccoli rabe and green beans, two nutritional powerhouses in their own rights. Packed with fiber, vitamin C and essential minerals, broccoli rabe is an anti-inflammatory superfood. Green beans deliver an equally impressive vitamin and mineral content, alongside the potential to support bone health and maintain bone density.
Ready in just 20 minutes, this is a great recipe to prepare for dinner guests, simply adjust the ingredients quantities as appropriate. Packed with so much mouth-watering flavor, they will think you've spent hours in the kitchen!
This recipe provides 2 servings as a healthy lunch or dinner. Any leftover tapenade makes a great addition to a lunchbox salad!
Enjoy!
Lemon and Rosemary Chicken with Olive Tapenade and Zesty Greens
Ingredients:
For the zesty greens
120g Green beans
120g Broccoli Rabe
1 tablespoon lemon juice
1 tablespoon of olive oil
The zest of ¼ lemon
A generous pinch of salt
A generous crack of black pepper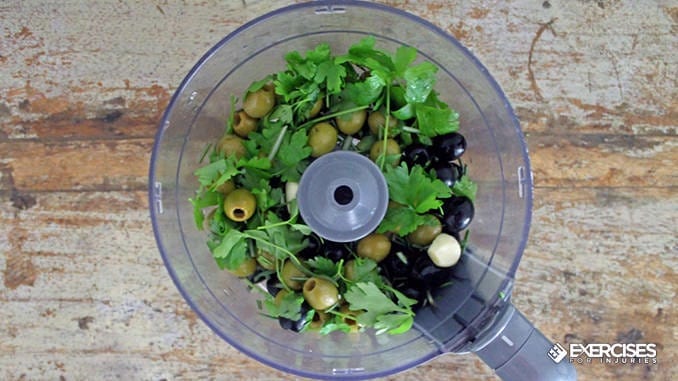 For the tapenade
½ cup black or kalamata olives
½ cup green olives
1 clove garlic
1 tablespoon chopped fresh rosemary
½ cup parsley
½ tablespoon balsamic vinegar
2 tablespoons extra virgin olive oil
A good pinch of black pepper
A pinch of salt if needed (omit if the olives are preserved in salt)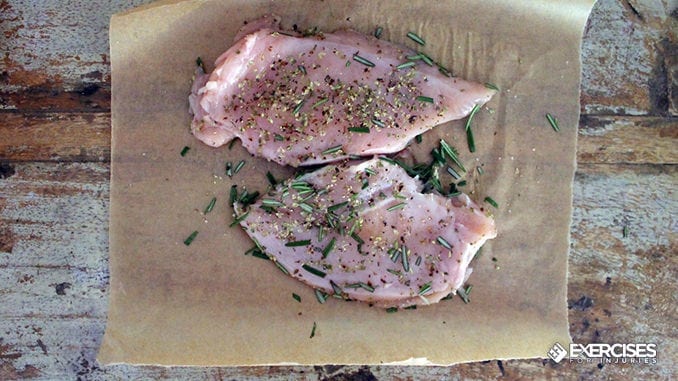 For the chicken
2 skinless free-range chicken breasts
2 tablespoons chopped fresh rosemary
1 teaspoon dried oregano
Juice and zest of ½ lemon
2 tablespoons olive oil
A generous pinch of sea salt
A generous crack of black pepper
Directions: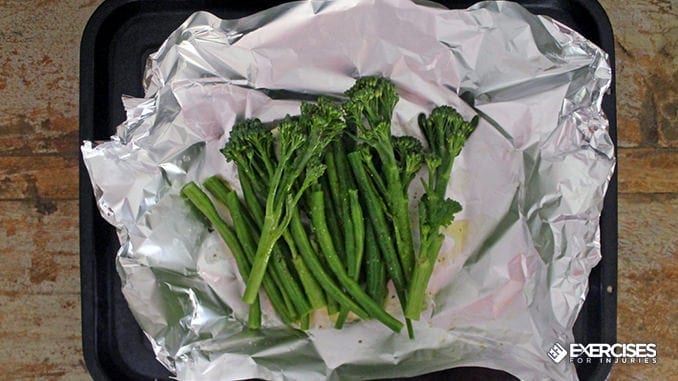 Start by making the olive tapenade. Add the olives, garlic, rosemary and parsley to a food processor. Pulse all ingredients briefly until finely chopped.
Pour in the olive oil and balsamic vinegar. Season with pepper and a little salt if needed and blend to a chunky paste. Reserve to one side until ready to serve.
To make the zesty greens, preheat the oven to 400 F. Cut a large rectangle of foil and place across a small shallow baking tray.
Add the green beans and broccoli to the foil. Pour over the lemon juice, olive oil and season with salt and pepper.
Using your hands, massage the oil and seasoning into the vegetables.
Bring the sides of the foil up together and scrunch the edges, enclosing the vegetables in a tight parcel, ensuring there is enough space inside for the steam to circulate.
Transfer the tray to the oven and bake for 15-18 minutes until the vegetables are tender and slightly caramelized.
While the vegetables are steaming you can prepare the chicken. On a sheet of baking parchment, season the chicken breasts with salt, pepper, rosemary and oregano, coating all sides.
Cover the chicken with another sheet of baking paper or place in a large sealable food bag. Using a rolling pin, pound the chicken to an even 2cm thickness.
Add the olive oil to a large frying pan over a medium/high heat.
Once the oil is hot, add the chicken and fry for 3- 4 minutes on each side until golden and cooked through.
Add the lemon juice and zest to the pan and remove from the heat. Spoon the juices and the zest over the chicken.
Add the chicken to a serving plate with the cooking herbs and juices. Plate the green vegetables and their cooking juices and sprinkle with lemon zest.
Serve with a generous helping of tapenade, lemon wedges and fresh parsley.
Serves:
2
Cooking time:
Prep time: 10 minutes
Cook time: 18 minutes
Nutritional values per serving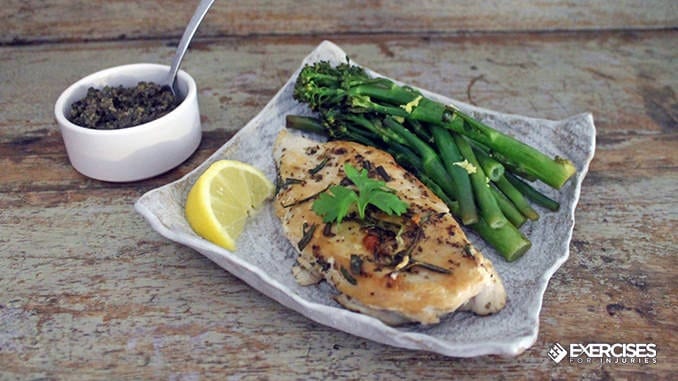 Calories: 561
Fat: 23g
Carbs: 7.9g
Protein: 56g
If you want to know what foods will help you shape up and shed inches while providing natural cure to illnesses, then check out the Best Foods That Rapidly Slim & Heal In 7 Days program.
Facebook comments: