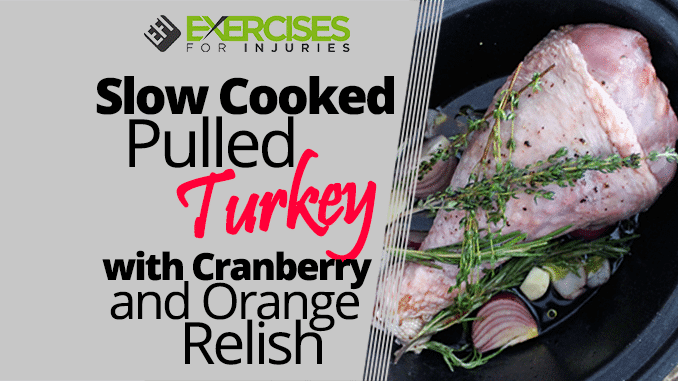 As summer draws to a close and signs of fall start to emerge, our thoughts quickly turn to thanksgiving and the delectable festive treats that will fill our table! A time to celebrate with family and friends, thanksgiving is not without its stresses and can quickly descend into chaos and carnage with a seemingly never-ending list of preparations.
Fear not! The key to stress free holiday cooking is to simply plan ahead and prepare meals that are big on flavor, small on fuss. This delicious recipe for slow cooked, pulled turkey is accompanied by a sweet, sticky cranberry and orange relish, offering a contemporary twist on the traditional thanksgiving roast.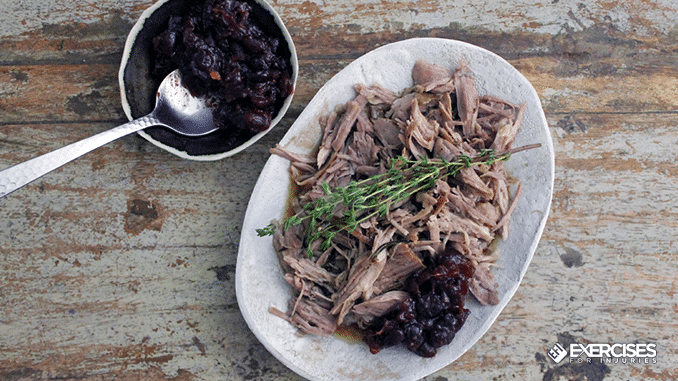 Nutritionally speaking, this is also a meal you can comfortably afford to indulge in. After all – that's what the holidays are all about! Anti-inflammatory and free from dairy, gluten and refined sugars, this recipe delivers all the classic festive flavors of the holidays without the hassle.
While preparing and cooking an entire turkey can be a daunting task, this recipe utilizes the leg joint, which is not only cost effective when feeding multiple guests, but is also a great vehicle for a delicious relish and festive flavors. Although I have opted to use a slow cooker, you could easily adapt the recipe to cook on the stove in a large casserole dish or dutch oven. You could also experiment with different cuts of turkey and use the thigh or breast joints, adjusting the cooking time where necessary.
Renowned for being a dry meat, I have opted to use a little stock to keep the turkey moist and succulent throughout the cooking process. You can use any shop bought stock or homemade broth that is free from additives or alternatively simply substitute for water. In addition to this, balsamic vinegar and maple syrup combine to add extra moisture and a little sweetness to this savory dish, with extra virgin olive oil providing a dose of healthy fats.
The relish itself packs an intense flavor punch and makes great use of dried cranberries which are much more readily available than fresh cranberries. Complemented by classic festive flavors, the dried cranberries soak up the cooking juices. This sweet, spicy and tangy relish provides the perfect accompaniment to the slow cooked meat offering an alternative take on the traditional turkey and cranberry sauce. What's more, you can save time on the day by making this ahead and refrigerating until ready to serve.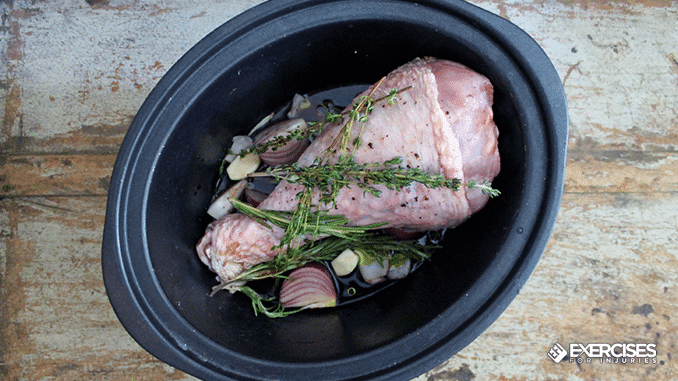 Once all the ingredients are in the pot you can step back, put your feet up and let the slow cooker do all the work.
After cooking, the turkey will fall easily from the bone. Transfer to a plate and use two forks to shred into bite sized chunks. Layer with a generous heaping of relish and serve with crispy oven roasted potatoes or braised red cabbage. This also makes great leftovers the following day in salad leaf wraps.
In terms of nutrition, turkey meat is naturally high in the amino acid tryptophan, which is converted to serotonin in the body. This has a natural calming effect – a great reason to get more turkey meat into your diet, and a good excuse for a post meal nap!
The turkey itself is slow cooked over a bed of onions and garlic – two of nature's greatest anti-inflammatories and antioxidants, not to mention powerhouses of flavor. With no slow roasted meat being complete without the addition of some fresh herbs, I have added generous helpings of rosemary and thyme. Rosemary is a powerful antioxidant with impressive anti-inflammatory properties, while thyme also exhibits strong anti-inflammatory qualities as well as being a natural antihistamine.
Not forgetting the incredible host of health benefits the relish has to offer, this perfect festive accompaniment to the sweet salty meat is an anti-inflammatory powerhouse. An excellent source of vitamin C, cranberries deliver an array of health giving properties and boast exceptional anti-inflammatory qualities. The tartness of the berries are perfectly complemented by the spicy heat of ginger and the sweetness of orange to deliver not only a taste sensation but an anti-inflammatory nutrient hit!
This recipe provides 2 very generous servings or 4 smaller meals. It makes a great sharing platter so simply double the quantity for extra guests.
Happy thanksgiving!
Slow Cooked Pulled Turkey with Cranberry and Orange Relish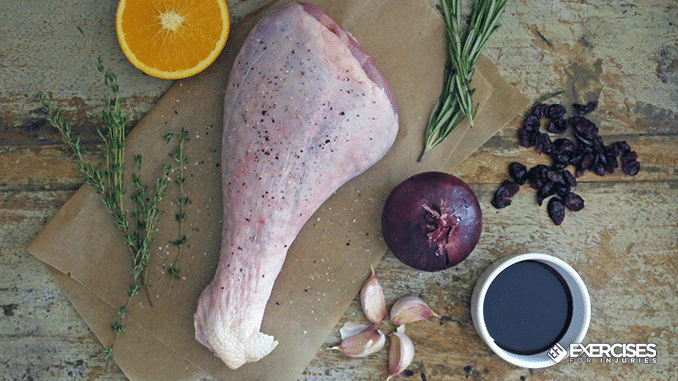 Ingredients:
For the pulled turkey
1 turkey leg joint – 900g
1 large red onion cut into thick wedges
4 cloves of peeled garlic
1/3 cup of stock or water
1/3 cup of balsamic vinegar
2 tablespoons of extra virgin olive oil
1 tablespoons of maple syrup (optional)
3 large sprigs of rosemary
3 sprigs of thyme
A generous crack of black pepper
A generous pinch of sea salt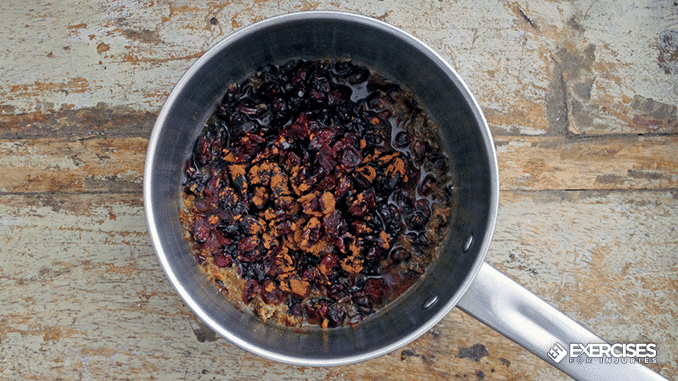 For the cranberry and orange relish
150g of dried cranberries
½ a cup of water
The juice and zest of 1 orange
2 tablespoons of balsamic vinegar
1 tablespoon of maple syrup
2 thumb sized pieces of fresh grated ginger
1 teaspoon of ground ginger
1 teaspoon of ground cinnamon
A generous pinch of sea salt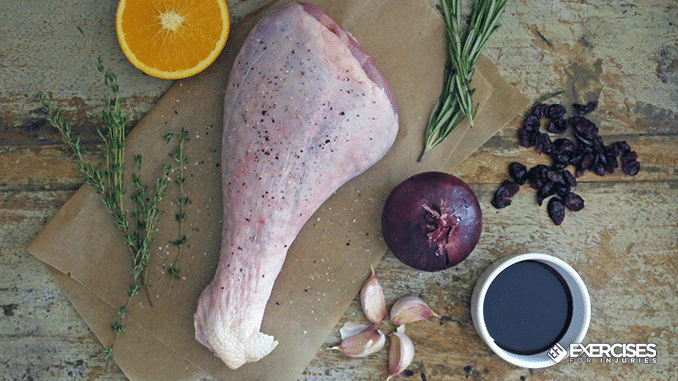 Directions:
Add the onion wedges and garlic cloves to the bottom of the slow cooker and pour the stock over the top.
Season the turkey leg generously with salt and pepper and rest on top of the onion and garlic.
Pour the balsamic vinegar, maple syrup and olive oil over the turkey.
Add the fresh herbs to the slow cooker.
Set the heat to high and cook for 5 hours until the meat is thoroughly cooked through and falling off the bone.
While the turkey is cooking, you can make your relish. Add the maple syrup, orange juice, zest, balsamic vinegar and grated ginger to a small saucepan over a medium heat.
Bring the liquid gently to a boil, then add the dried cranberries, ground ginger, ground cinnamon and salt.
Reduce the heat and simmer gently, continuously stirring until all the liquid has been absorbed.
Add the water and bring the liquid back up to a simmer for around 20 minutes, until the liquid has reduced right down and you are left with a sticky relish.
Once the turkey has cooked, remove the meat from the cooker and shred onto a plate using two forks. Serve with a little of the cooking liquid and the cranberry and orange relish.
Serves:
2-4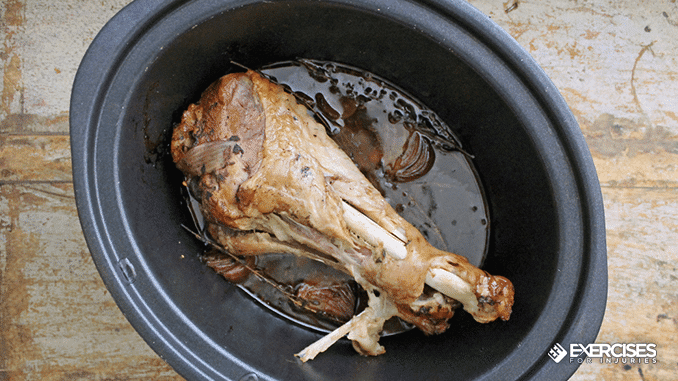 Cooking time:
Prep time: 10 minutes
Cook time: 5 hours
Nutritional value of main ingredients:
Amount per serving
Fat: 3.7g
Saturates: 1.3g
Sugar: 11g
Salt: 0.05g
If you want to know what foods will help you shape up and shed inches while providing natural cure to illnesses, then check out the Best Foods That Rapidly Slim & Heal In 7 Days program.