Today, let's take a break from injuries and pain.
Let me thank you and give you an update on things.
#1 – Thank You For Your Donation and the Gift You Gave My Kids
I want to start off with a Thank You to you for supporting the Exercises For Injuries "Black Friday" sale. With your support, we were able to buy a shopping cart full of toys for the Toys for Tots charity in my community.
The kids had a fun time shopping for the toys. The part they liked best was getting to 'drive' in the cart.
Yes, they are funny little monkeys.
I was not thinking that much would happen just by buying a bunch of toys, but it ended up being an amazing lesson for our kids. We spent the night and a number of the days after, talking with our kids about how there are kids that cannot afford toys for Christmas and will not be getting any toys for Christmas. They did not understand things at first but then it became clearer and with pride, they were telling people in the store and at school about all the toys going to Toys for Tots in Kelowna, British Columbia, Canada area.
Thank you for your generosity and thank you for teaching my kids a very valuable lesson.
#2 – Coaching Call with Dean Somerset and Myself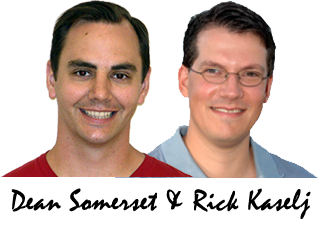 Dean Somerset and I have set the day and time that we will be doing the coaching call for all Ruthless Mobility members.
It will be:
Thursday, January 15, 2015 6:00 pm EST (3 pm PST)
While you are going through Ruthless Mobility, make sure to jot down any questions that you have for me and Dean. We will answer them on the coaching call.
Everyone that has  Ruthless Mobility will be sent the specific log-in details and how to send us your questions.
Dean and I are looking forward to it.
#3 – This Has Exceeded My Expectations!
The EFI Secret Group has been a great success.
Someone suggested that I should have an area where people can go, ask questions and get help from my other friends in the health & fitness world. I gave it a chance and it has been a tremendous success.
Every day, new people are joining. There are a lot of discussions. Everyone is helping each other out with their injuries and pain, and I am in there every day, helping as much as I can.
It is awesome!
If you purchased a product during my Black Friday Sale or received Ruthless Mobility, contact me at [email protected] and we will let you know how you can join the group for free.
Take care and remember, the best life is a pain-free life.