Today I have an interview for you on Gluten and Injury Recovery.
Enjoy the interview.
CLICK HERE to listen to the interview with Dr. Peter Osborne on Gluten and Injury Recovery. 
CLICK HERE to listen to the interview with Dr. Peter Osborne on Gluten and Injury Recovery.
What Dr. Peter Osborne shares in the interview:
Who is Dr. Peter Osborne?
What influenced him to focus on the nutrition side of things?
What is gluten?
How did gluten become a major issue when it comes to nutrition?
What are the symptoms and side effects of gluten sensitivity?
What are some examples of neurological syndromes caused by gluten sensitivity?
How does gluten sensitivity create chronic pain in joints?
How to perform a self-examination to see if a person has gluten sensitivity
A few things you need to know about listening to the interview:
To listen to the interview, scroll down to the bottom of this page and click the play button symbol. If you do not have time to listen to it right now, just click the "download" button and download it to your computer. Then you can listen to it on your computer when you like.
Also, the interview is up on iTunes. You can listen to it HERE or subscribe to the iTunes podcast and get all the interviews when they are ready. Enjoy!
If you use Chrome as your web browser, at times it can act up when playing the interview. I would suggest listening to the interview in another web browser (Firefox, Safari, Internet Explorer, etc.)
If you would like to get more information on Dr. Peter Osborne, you can check out his special report on Bad Food = Injury, here: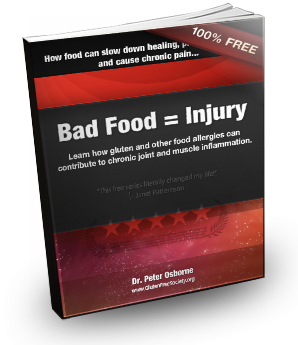 .
If you have a neat specialization or business information that would be of benefit for fitness professionals to know about, please do contact me and I would love to share it with the EFI world.
If you know of someone that may benefit from this interview, please forward it to them.
Take care.
Rick Kaselj, MS
P.S. – If you liked this interview with Dr. Peter Osborne, you will like these other ones as well:
In this interview, Yuri Elkaim shares with you the importance of a fitness professional taking the time, energy, and money into understanding nutrition. He shows you how it has helped him and his clients. He highlights how it can help you and help your clients get better results.
In this interview, Brian St. Pierre answers your questions on nutrition. I collected questions from EFI readers and Facebook friends and put them to Brian. He answers questions on intermittent fasting, cereal, cancer prevention, supplements, bars and so much more. Check out the interview, it is packed with great info for you.
Podcast: Play in new window | Download