"Where did he go?"
"He dropped a smoke bomb and vanished behind it and into the Vegas lights."
"What?"
He was sitting in his chair one minute and the next, the chair was empty.
It was a Vegas mystery.
All that was left in his place was this: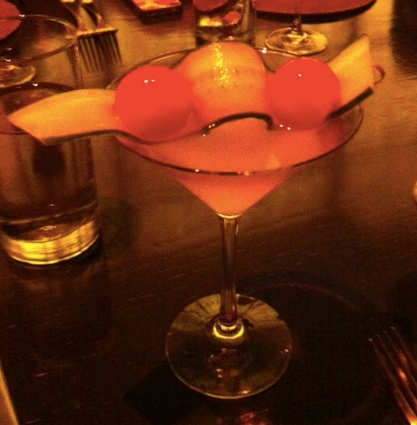 Cucumber Martini
Before the vanishing act, he left us with a few lessons.
But first, let me set the stage.
A group of about 31 of us headed out for dinner with Bedros Keulian, Craig Ballantyne, and Jason Ferruggia.
We were at the Brand Steakhouse in the Monte Carlo in Las Vegas.
We were having a great dinner, spending time with amazing people, and had wonderful conversations.
A few lessons came up during the dinner:
Opportunity – There are endless amounts of opportunities out there. It is up to you to decide and choose which one to put full effort behind.
Relationships Are Built on Moments – All 31 of us would remember this night and talk about it for years to come.
Helping Others Out – Sharing with others what has worked and asking those that have been there for their help will lead to the greatest amount of success.
When the lessons were taught and the seeds planned, Craig dropped an imaginary smoke bomb and vanished in the Vegas lights.
It was classic Craig.
Now as I write this on a plane and reflect on the lessons.
There is always an opportunity for us to address our injuries and pain. Most times we just avoid dealing with it, hoping it will get better. A key thing that leads to being pain-free and getting back to what you enjoy is the relationships you have which guide you on that journey of overcoming pain and injury. Remember, when you have found out what has worked for you, make sure to share with others what has worked for you to help them on their journey to becoming pain-free.