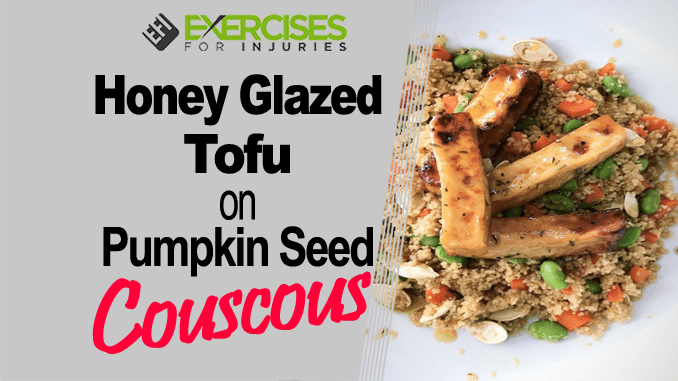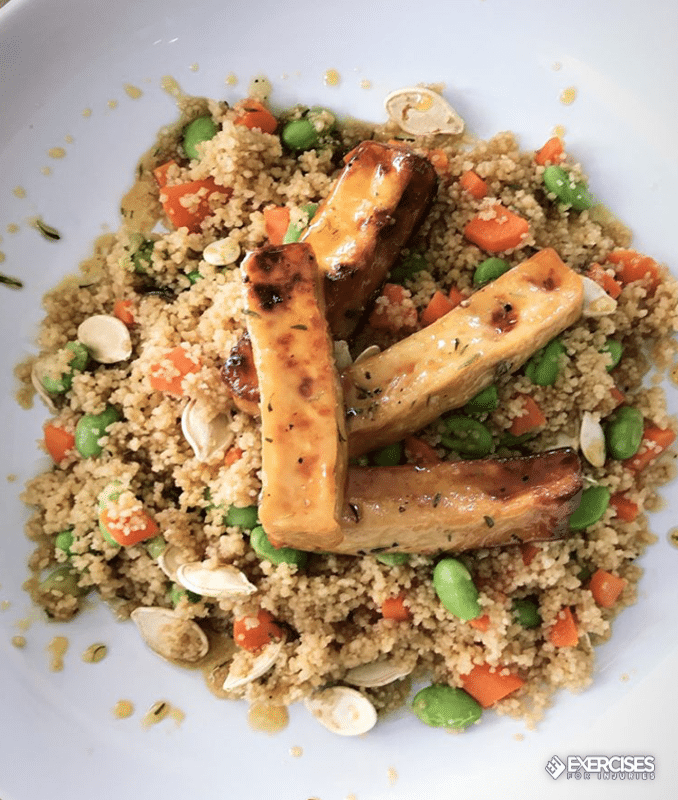 INGREDIENTS: 
Tofu & Marinate:
10 oz extra firm Tofu
2 Tsp Cracked Black Pepper and Dried Thyme
1 Tsp Sea Salt
¼ Cup Safflower Oil
½ Raw Honey
Couscous:
2 Cups Low Sodium Vegetable Broth
2 Carrots, Chopped
1 Cup Frozen Organic Edamame Beans
2 Tsp olive oil
1 tsp Sea Salt
DIRECTIONS:
Prepare tofu. Place tofu between two plates and set heavy pot on top. Drain 10 minutes and pat dry. Cut tofu in 3/8 inch thick slices. Combine and coat tofu with marinate.
Meanwhile prepare couscous. Bring broth, carrots, edamame and salt to boil. Add olive oil. Cover sauce pan. Remove from heat and stir in couscous. Let sit for 5 minutes then fluff with fork.
Meanwhile, heat safflower oil, honey in skillet on medium heat until bubbling. Place tofu in pan for 3 minutes. Turn and cook all sides.
Serve pumpkin seeds into couscous and spook tofu on top.

Honey Glazed Tofu – Pumpkin Seeds and Couscous
Serves 6 ~ Hands On Time 30 minutes ~ Total Time 35 Minutes
Nutrition Per Serving:
Calories: 577
Fat :26g
Sat Fat: 3g
Carbs: 71g
Fiber: 10g
Sugar: 27g
Protein: 26g
Sodium: 444mg.
Facebook comments: