Hey, I hope you had a great Father's Day weekend. 
Mine was awesome! I had a wonderful time camping with the family. Camping is one of my favorite things to do. It was great to be outside and spend time with my family.
For today, I have an article and video for you on a few steps to help relieve knee pain. Feel free to share this to your family, friends and colleagues who are suffering from knee pain.
Enjoy!
~ Rick
===================================================
In today's video, I wanted to talk about how to squat without knee pain.
How to Squat Without Knee Pain in 6 Steps
CLICK HERE to watch the YouTube video.
I'll get Donnalee to demonstrate.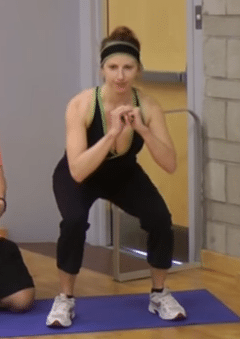 Feet a little wider apart – A lot of times people have their toes point straight ahead and this causes a lot of stress on the knees.
Squat with the toes out – This will overcome the tightness or lack of mobility which is usually felt in the hip area.
Put your weight on the mid foot or heel – When you are standing on your toes and you are going to do a squatting movement, it puts tons of stress in the knee. Do not put weight on the toes.
Focus on your hamstrings and glutes – Focus on the glutes and hamstrings exercise than the quad exercise.
Keep the shin vertical – This puts less stress on the knee joint and it allows you to work on the glutes and hamstrings.
Squat down until your hips are below your knees – This will enable you to allow your hamstrings and glutes to help you get out of that bottom position.
Give those tips a go to squat without knee pain.
If you want to eliminate your knee discomfort once and for all, then check out the Fix My Knee Pain program here:

Take care!
Rick Kaselj, MS
.
Facebook comments: