In this video, I wanted to go through what to do if you get elbow pain when doing dumbbell exercises.
Quick Fix for Elbow Pain When Doing Dumbbell Exercises
CLICK HERE to watch the YouTube video.
There are 2 Tips that I can give you.
#1 – Swap out the Dumbbells for a Barbell
You can do your exercises utilizing the barbell so you can have help from both sides. Instead of things being isolated with the dumbbells and each arm having to work independently to do the exercise and do the movement, now you are getting assistance from both sides. If you have one side that is a little stronger than the other, it will be able to help the other side. That is your first option.
#2 – Use Wrist Straps or Lifting Straps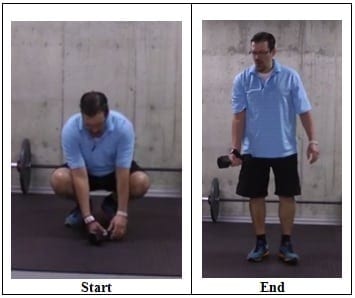 Using a Wrist Strap or a Lifting Strap
I can use either the wrist straps or lifting straps when I am using the dumbbells. I could put them on and wrap them around the dumbbells and tighten it up. By doing this, a lot of the load is put onto my wrist and I don't have to work as hard in the grip to do the exercise. Now that I am not having to grip as hard with my hand and my fist, that will put less stress on the elbow joint.
If you are having elbow pain when utilizing the dumbbells when doing dumbbell exercise, you can do those quick things. You can swap out the dumbbells for the barbell or you can get the wrist straps or lifting straps while doing the dumbbell exercises to decrease how much grip strength you need which will decrease the stress on your elbows.
Make sure to swing by ExercisesForInjuries.com. Enter in your injury or pain like "elbow pain" and there is a good chance that I have an article, video or an interview that will help you overcome your injury or pain.
Secondly, if you are watching this on YouTube, head up above, hit "Subscribe". What that will do is every couple of days you will get a video like this where I talk about tips and tricks on overcoming injury and pain.
Thirdly, head down below, hit "Like" and leave me a question or comment.
Here's a quick and easy step-by-step guide that will finally end your elbow pain. Grab your own copy of the Fixing Elbow & Forearm Pain System here: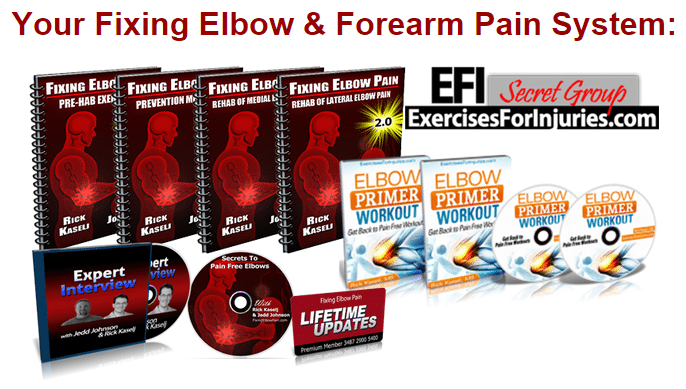 Take care!
Rick Kaselj, MS.
Facebook comments: